2018 Scotiabank Fredericton Race Weekend
Countdown to event - May 13, 2018
39th Annual Scotiabank Fredericton Race Weekend - May 13th and 14th 2017
The course uses the City's vast partly paved and hard packed trail system while also highlighting some of the picturesque residential architecture in Fredericton. The marathon course has been selected by RunNB as the 2017 Provincial Championship Marathon. It is Boston certified, and continues to draw athletes who want to achieve a qualifying time on this very flat and fast course. In 2016, 28% of the marathon runners qualified.
"The route allows Fredericton to become one of the many cities who have embraced the marathon as a key event to showcase their city to a large number of people" noted Paul Lavoie, Race Director of the Scotiabank Fredericton Race Weekend. The route will see the first 4kms starting at Queen Square and showcasing the downtown core prior to utilizing the trail system and the Bill Thorpe Walking Bridge. We pride ourselves on giving you an extraordinary experience. We are dedicated to providing you with the chance to make great friends and conquer one of the many great challenges in your life!
The Scotiabank Fredericton Marathon is a certified Boston Marathon qualifier.
To register at Atlantic Chip / Race Roster click here.
Welcome Message, Michael G. O'Brien, Mayor of Fredericton
On behalf of City Council and the citizens of Fredericton, it is my pleasure to welcome all the runners participating in the 2017 Fredericton Marathon being held May 14th, 2017. This event is the culmination of countless dedicated hours of training.
To all our visitors, welcome to Fredericton. We are very excited to host this outstanding sporting event each year in our beautiful City.
The City of Fredericton takes great pride in being one of the world's most intelligent communities, a leader in green technologies and a proud supporter of recreation, arts and culture in our community. We also take great pride in the balanced lifestyle we offer our residents.
And so we come to the day you have trained for. Excitement and anticipation fill the air. Enjoy the memorable experience and the beauty of the course. I was pleased to run in the 5 km event in 2016, and look forward to participating again this year. See you at the starting line!

-MAYOR-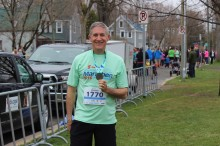 Sponsors
We would like to thank the following companies for making this year's marathon possible. We couldn't do what we do without their fantastic support.