2020 Stewart McKelvey Fredericton Marathon Race Weekend
Countdown to event - May 9-10, 2020
December 19, 2019
THE BRIDGE IS BACK FOR 2020!
Runners participating in the 42nd Annual Stewart McKelvey Fredericton Marathon will cross the Westmorland Street Bridge on Sunday, May 10.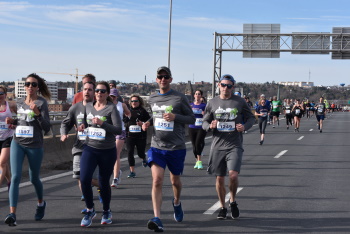 "Runners enjoyed their experience so much running across the bridge this past May that we worked hand-in-hand with the City of Fredericton to make it happen again for May 2020," said Bruce Macfarlane and Christine Little, Co-Race Directors of the Fredericton Marathon.
On Sunday, May 10th runners will take part in point-to-point races with a separate start and finish line at Queen's Park Square. Participants running the 10k, half marathon or full marathon events will cross the Westmorland Street Bridge, heading to the streets of the North Side before entering onto the city's trail system and returning to the South side via the Bill Thorpe Walking Bridge to the finish line at Queen's Square Park.
"We would like to express our gratitude to the City of Fredericton and its various departments for partnering with us, our sponsors, volunteers and participants to make this New Brunswick's top marathon event," added Macfarlane and Little.
Named Best Boston Qualifier by Canadian Running Magazine, the 42nd annual Fredericton Marathon is a certified Boston Marathon qualifier and you can register here at Race Roster.
Our two-day event features a 3km run/walk and the Youth Fun Run on Saturday, May 9th; followed by our traditional Sunday events on May 10th; 5k run/walk, 10k run/walk, half marathon run/walk and full marathon run only. Register Now at Race Roster
Check our website regularly as we will be updating our information web pages in the New Year!
THANK YOU!
STEWART MCKELVEY RUN FOR THE SHELTERS RAISES $9538 FOR THE FREDERICTON HOMELESS SHELTERS
Our final tally is in!
We want to thank YOU, the participants, sponsors and volunteers for making the inaugural Stewart McKelvey Run for the Shelters such a huge success on October 27th. We raised at least $9,538 for the Shelters.
Sponsors
We would like to thank the following companies for making this year's marathon possible. We couldn't do what we do without their fantastic support.