News and Updates
Marathon Photos
Go to our facebook page to view and download images from the 2017 Fredericton Marathon.
GIVING BACK TO OUR FREDERICTON COMMUNITY
For many years, the Fredericton Marathon has been giving back to our community, granting funds to various Community Groups who support our popular event.
Some of these community groups include: York Sunbury Search and Rescue, Leo Hayes Safe Grad, University of New Brunswick Cross Country Running, St. Thomas University Rugby, FAST TRACKS, Canadian Ski Patrol and more.
Did you know that in the past 5 years alone, the Fredericton Marathon has provided more than $35,450 to various community groups?
And this year, our 39th year of the Fredericton Marathon, we will continue to grant funds to local community groups who support us.
See you on May 14th!
Delta Hotels Fredericton
Our block of hotels at the Crowne Plaza has now sold out! Delta Hotels has offered us a special group rate of $119 CAD per night. Click here for details.
Pace Bunnies
The Fredericton Marathon pace bunny list is out! Check the White Rabbit Pacing website for pacing times and who your pacer will be for the 10K, Half or Full marathon.
Volunteers
For those interested in volunteering for the Fredericton Marathon this year, please email Karen.
Canada's Top 5 Boston Qualifiers
GET OUT THERE magazine has selected the Fredericton Marathon as one of Canada's Top 5 Boston Marathon Qualifiers in their recently released list. The Fredericton Marathon prides itself on being flat, fast and festive event. The 2016 marathon saw 28 per cent of it's 217 finishers meet their Boston qualifier.
The 2017 Provincial Championship Marathon!
The Fredericton Marathon has been selected by RunNB as the host event for the 2017 Provincial Championship Marathon. Checkout the cash awards here.
Registration for the 39th annual Fredericton Marathon is now Open!
You can now register for one of our races! Take advantage of our Early Bird special between Aug 15, 2016 and Dec 31st, 2016 and save on your entry fee. When registering, please pay close attention to the charts for the shirt sizes! We've been advised that the ladies sizes are 'snug', so better to order a size larger than what you usually wear. You can also find the sizes charts here.
Register here:
New Distance Record!
Congratulations to Colleen Wilson of Ancaster, ON for breaking the 10K distance record set last year by Laura Dickinson from the Miramichi. Colleen finished 4th overall and the first female in a time of 37:14 beating Laura's time of 39:00.
View course records here.
Early Bird cut-off date
If you want to take advantage of the Early Bird registration (that means pay less & have a guaranteed shirt!), make sure that you register by April 10th, 2017.

If you want to have your name on the bib (race number), please register by April 10th, 2017!!
Marathon Wellness Expo
Annually, we host a marathon wellness expo with booths of businesses, destination races, retail sales and health professionals. This year will not be any different. If you are interested in renting a booth at the Fredericton Marathon Wellness Expo, please email Bruce.
Twitter / Facebook
We will be updating you on our website, Facebook and on Twitter to keep you up-to-date with news, interesting things, etc.
Do you know your pace time?
The full marathon and half marathon runs and walks will be starting at 8:00am. At 7:35am, you will be asked to go to the starting area.
The 5k and 10k runs and walks will be starting at 8:20am. At 8:05am, you will be asked to go to the starting area.
It is very important that you position yourself as close as possible to your estimated pace time. Below is a pace chart to give you an indication of what your pace time would be, should you have certain time goals in mind.
Training Pace Chart
Pace/KM

5KM

10KM

21.1KM

42.2KM

0:03:30

=

0:17:30

0:35:00

1:13:50

2:27:41

0:04:00

=

0:20:00

0:40:00

1:24:23

2:48:47

0:04:30

=

0:22:30

0:45:00

1:34:56

3:09:53

0:05:00

=

0:25:00

0:50:00

1:45:29

3:30:58

0:05:30

=

0:27:30

0:55:00

1:56:02

3:52:04

0:06:00

=

0:30:00

1:00:00

2:06:35

4:13:10

0:06:30

=

0:32:30

1:05:00

2:17:08

4:34:16

0:07:00

=

0:35:00

1:10:00

2:27:42

4:55:24

Don't know?

Please start near the back

Walkers

Please start at back
Bag Drop-off on Race Day
There will be a Bag Drop-off on race day. For your convenience we will provide each runner, who would like to use this Bag Drop-off, a clear plastic bag (18" x 24") at the Race Kit Pick-up. We will NOT accept other bags and/or backpacks!!

Your bib number has a tear-off section that has to be attached to the plastic bag. When you pick up your bag after the race, simply show your bib and the volunteers will get your bag for you.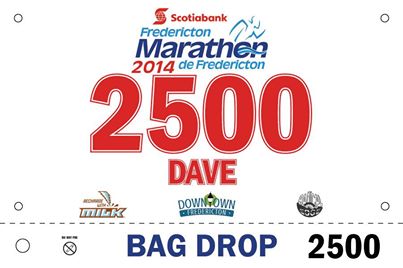 Post-Race refueling
To aid in your recovery, we have will have post-recovery nourishments available at the finish line.

Portapotties
As with any large event, the Fredericton Marathon will have a large number of facilities available for usage at the Start, Finish area. Facilities will be strategically located on the entire race course. Please check for approximate placements noted on course maps before you run and keep a look out as you traverse the course. They are first come, first serve.