News and Updates
Click HERE to view a YouTube video of runners crossing the Walking Bridge!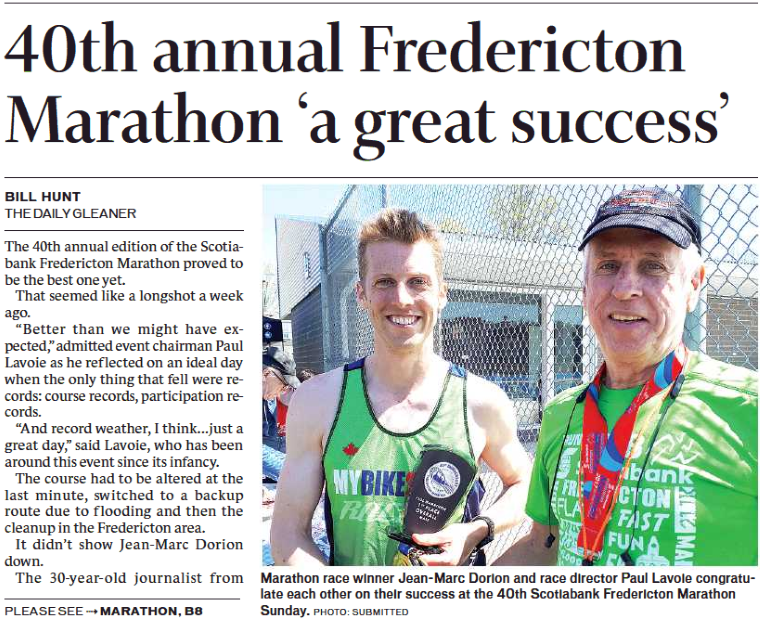 Continue reading the article here.
SHOWCASE SATURDAY 12 P.M. - Delta Hotels by Marriott Fredericton w/ SPECIAL GUEST SPEAKERS!
Come hear the goods about other races from New Brunswick, Nova Scotia and Maine at our special Showcase Saturday event.
Race directors from several races will be on hand to talk about their upcoming races. Get all the information about these amazing races first hand.
At 1:00 p.m. Eric Gillis, a 3-time Canadian Olympian, will be on hand for a Q&A session with you.
This FREE Showcase is open to runners and the general public at the Governor's Ballroom at the Delta Hotels Marriott Fredericton.
NOTICE to all participants, we have prepared a helpful list of Things to do before you Go!
UPDATED COURSE MAP
Due to current flooding all courses have been changes. Click here to view alternate course for the 5k, 10k, Half & Full Marathon Courses. Read todays Daily Gleaner article ' Marathon to take a turn so runners stay dry'.
3K Run Location Update
Due to the current flooding the 3k Run location has changed to QUEEN SQUARE.
Canadian
Red Cross

Flood Relief

At this weekend's Fredericton Marathon Valley Graphics Expo, the Fredericton Marathon will be collecting funds for Canadian Red Cross to support those affected by flooding in our province. The Committee will match all funds collected up to $1,000.
Knowledge Park Drive will be closed for the Trites Smile Mile Race!
We are monitoring the flood situation and any potential impacts on our courses for May 11, 12 & 13. We have contingency plans in case we have to implement them. Any important updates will be sent to the e-mail address you provided on regisration.
Read the 40 year history of the Fredericton Marathon by Steve Scott.
Check out this years finish line Medal
Questions can be addressed on the FAQ page.
We still need VOLUNTEERS for Sunday Morning!
Click here to send us an email if you are interested!
TRITES ORTHO SMILE MILE COURSE
The Trites Ortho Smile Mile takes place along Knowledge Park Drive on Friday, May 11th. As part of the 40th Anniversary of the Scotiabank Fredericton Marathon, we are conducting a good old fashioned, cash-prize One Mile Race sponsored by Trites Orthodontics. Cash prizes awarded to the top 3 male and female finishers.
Race starts at 7 p.m. sharp at Rio Can Avenue (Corbett Centre) and Knowledge Park Drive and the course continues along Knowledge Park Drive to the Grant-Harvey Centre entrance closest to Allison Boulevard. All traffic Knowledge Park Drive between Rio Can Avenue and Allison Boulevard will be closed for the duration of the event.
Shuttle service from Delta Hotels by Marriott Fredericton for participants will be provided to and from the race.
Awards will take place at 8:30 p.m. at DJ Purdy's Lounge of the Delta Marriott Fredericton.
New Messages
Read the new messages from Fredericton Mayor Mike O'Brien and local MP, Matt DeCourcey on our 40th Anniversary marathon!
Hall of Famer!
Our very own race director Paul Lavoie was inducted into the Run NB Hall of Fame ceremonies on Saturday, Nov. 18! Read about Paul in this article written by Kevin Barrett for the Daily Gleaner.
Registration for the 40th Annual Scotiabank Fredericton Race Weekend - May 11th, 12th and 13th 2018 is OPEN!
Marathon Photos
Go to our facebook page to view and download images from the 2017 Fredericton Marathon.